[Amber Goods - Amber Jewelry - Amber Jewellery : Home Page]
Jewelry with silver: Amber Necklaces, Amber Pendants, Chains for pendants, Amber Bracelets, Amber Earrings, Amber Earrings to stick, Amber Rings, Amber Brooch, Green Amber Jewelry; Jewelry with no silver: Amber Necklaces, Amber Bracelets, Jewelry Sets: Amber Jewelry Sets

Amber Silver Earrings ER1057
This item is out of stock at the moment, Sorry!
Price of this Earrings : 34.00 Euro or $48 .
Click image to enlarge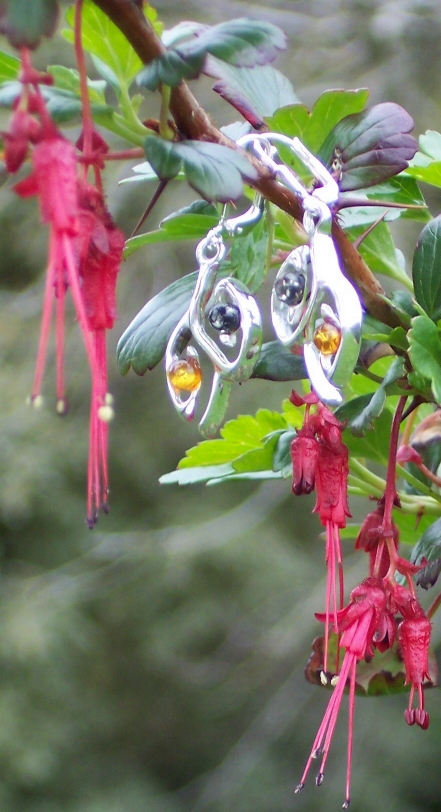 Photo of this piece of Amber Jewelry - Amber Silver Earrings taken in park around Blarney Castle, Co. Cork, Ireland; Spring.

These earrings' shape reminds a fantasy berry plant. There are two pieces of polished amber on each earring: one cognac and one green play the role of berries hanging among twisted silver branches.
For information on wholesale amber jewelry purchase - pricing and conditions - see our Wholesale page.
You can also contact sales@ambergoods.ie or sales@ambergoods.com for more info on orders, payment/delivery conditions and special deals.
All the amber jewelry photos on this website are property of Amber Goods. Using these photos without permission is not allowed.
All the text on this website, and in particular amber jewelry descriptions (except for the quoted parts) is an intellectual property of Amber Goods and is protected by copyright law.
Send mail to admin@ambergoods.ie or admin@ambergoods.com with questions or comments about this web site.
Copyright © 2005 Amber Goods
Last modified: 30th Sep 2007